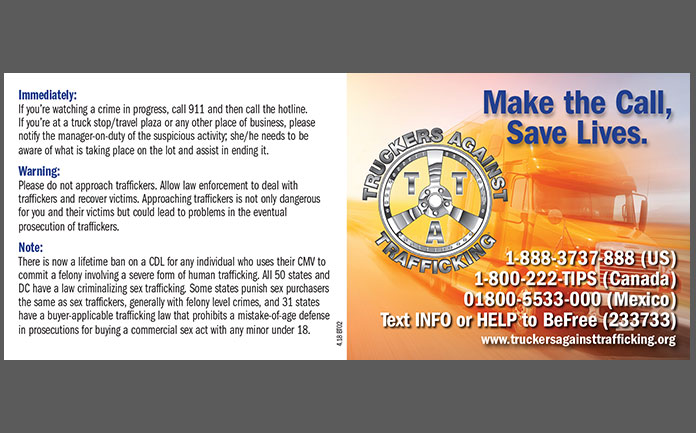 Reading Time:
3
minutes
By Rebecca Metcalf
Sex trafficking, or forced prostitution, is one of the fastest growing criminal enterprises in the world. It affects millions globally. Many people don't even realize that it is happening here in the United States. Luckily, we have truckers, who are the eyes and ears of our highway.
Kendis Paris co-founded the 501c3 nonprofit Truckers against Trafficking (TAT) in 2009 as an initiative of Chapter 61 Ministries. "My family's ministry, and my mother, Lyn Leeburg, came up with the original idea for it. I became the executive director in 2011 and turned TAT into a 501c3. I do this work because I truly believe, and have seen, that professional drivers can discover and disrupt human trafficking networks across this country, ultimately aiding in the recovery of the victims, and I find that remarkable," Paris explained.
There are 898,823 people who are registered as TAT trained, and 1,230 victims have been identified. TAT equips the trucking industry with a response through their partnerships with law enforcement across the nation. It trains members of the transportation industry to recognize human trafficking and alert authorities.
TAT wants to change the culture that gives rise to the problem. Where demand creates a market, supply will meet the demand. Therefore, no demand means no victim and no sex trafficking. Because men are the majority of commercial sex buyers and also compose 66% of the workforce, TAT encourages companies and businesses to incorporate anti-trafficking training into the workplace. Men are encouraging each other to see themselves as allies to women, and children, seeking freedom.
While the initial purchase of a trafficking victim may occur online, the real time sale of victims happens in many locations. Examples include truck stops, restaurants, rest areas, hotels and motels, strip clubs and private homes. Red flags to look for include: the victim's lack of knowledge on their whereabouts, not being in control of their passport, not being allowed to speak for themselves, acknowledgement of a pimp and making a quota, signs or branding or tattooing of the trafficker's name (often on the neck), and a vehicle that drops someone off and picks them up 15 to 20 minutes later.
If you suspect a person is a victim of human trafficking, here are some questions you should ask:
Does your family know where you are? If not, why not?
When was the last time you saw your family?
Have you been physically or sexually abused?
Are you or your family being threatened? If so, what is the nature of the threats?
If you see a crime in progress, call 911, then call the hotline listed below. Notify the manager of the truck stop, travel plaza, etc. He or she needs to be aware of what is happening, and assist in ending it. Don't approach the traffickers! Allow law enforcement to handle the situation. Approaching traffickers is dangerous for you and the victim. It may lead to problems in the prosecution of traffickers. Police will need a description of cars, including make, model and license plate number. They will also need a description of those involved, including height, weight, hair color, eye color and age. Law enforcement will also want to know when and where the crime took place.
In addition to helping identify trafficking victims, the community can help by telling those you know in the trucking industry about TAT. Those interested in contacting truck stops or trucking companies in their area with TAT materials may contact TAT at tat.truckers@gmail.com. Community members may consider hosting a screening of the training video with their church or community group. It is also possible to adopt TAT as the beneficiary of a fundraiser. Of course, TAT encourages the community to continue to learn about trafficking and educate others, especially children. Individuals can give by donating stock, sending a check, donating via an IRA Rollover, or making a charitable bequest. In addition to individuals donating, corporations can partner with them. The website lists a variety of corporate sponsors.
Please consider how you can help this admirable cause. "Each individual can activate their sphere of influence to combat human trafficking, but start by educating yourself and your family members on this crime. Traffickers count on our ignorance and apathy, so it is imperative we move victims out of the shadows," said Paris.
National Human Trafficking Hotline Resource Center
1.888.373.7888
Truckers Against Trafficking Hotline
1.888.3737 (U.S.A.)
1.800.222.TIPS (Canada)
01800.5533.000 (Mexico)
Text INFO or HELP to BeFree (233733)
www.truckersagainsttrafficking.org