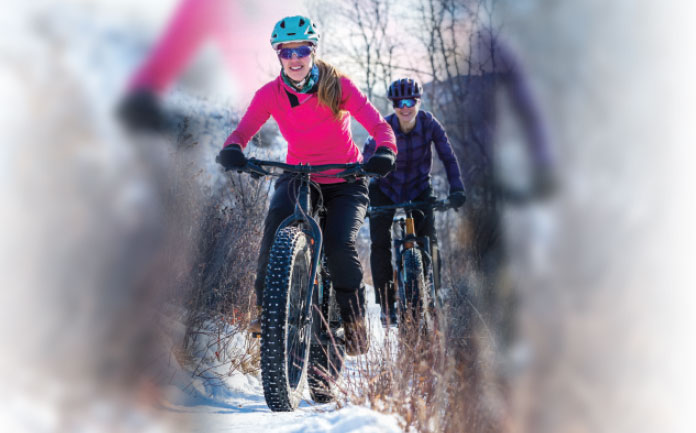 Reading Time:
3
minutes
By Jason Lorenz
It has come. Winter is here in the Midwest, bringing cold, wind, snow, ice and terrible road conditions. What it takes away is the chance to partake in all of those outdoor summer activities we love, including those we do to stay fit such as bike riding or cycling, to be more specific. For bike enthusiasts like me who love to ride anywhere and everywhere we can during the warmer months, the winter leaves us feeling constrained and disconnected. This can lead to a more sedentary life where one's activity shrinks while the weight grows. So  what are pedal lovers to do when their favorite outdoor exercise becomes near impossible? Thankfully, there are both indoor and outdoor options for bike enthusiasts to keep pedaling year-round.
There are those who primarily bike for exercise due to limits they have in their range of motion. An aspect that makes cycling appealing to some is how much easier it is on the joints with the fluid, circular motion of pedaling. For someone with old injuries or other issues with their legs, cycling can be the best fit for cardio activity. If you don't have access to a stationary bike, special mounts are available to install on your regular bike with a little modification. Basic units start at $130. If you are serious about working out at home and can afford it, virtual riding systems like Peloton and Cycle Ops are the hottest new craze in home exercise.
Users interact via video screen connected to the internet to join virtual classes offered at different times. The equipment can cost anywhere from $240 to $2,000, depending on which package and brand you pick. While both require a monthly subscription for online interaction, they are not necessary if you just want to ride.
Traditional spin classes offered at gyms are a great way to get that cardio workout without having to own any equipment. The classes also offer a supportive, social environment that can be encouraging. Andrew Younger of the Crim Fitness Foundation says having a buddy or an exercise group like this helps, but so does making sure you are picking a routine that fits your budget, schedule and specific needs. Otherwise, you may end up talking yourself out of it. "Figure out what makes the most sense for your needs, budget, and lifestyle and go with that," says Younger, adding that the benefits of keeping active and social in the winter are more than just physical. "Between the colder temperatures and the shorter days, many people find themselves more lethargic and more apt to fall into depression."
While some like the social interaction spinning classes have to offer, albeit, in a more structure way, there are those who just love a good old fashioned bike ride exploring with friends. Dan Moilanen, organizer of Social Cycling Flint and its popular Thursday Night Party Ride, says his weekly event attracts dozens during peak summer months. His group usually takes to other activities in the winter such as organized sledding days at a local park. But if you just want to ride and aren't afraid of the cold, Dan points to a new trend that offers an outdoor pedaling experience for the winter: fat tire biking.
Fat tire bikes have oversized tires meant for providing traction on unstable terrain like sand and snow. These If you want to check it out for yourself before making such a big purchase, many places offer rentals in addition to trail access.
"If you want to check it out for yourself before making such a big purchase, many places offer rentals in addition to trail access."
bikes start at around $250 and can go up to $2,000, depending on your budget. Matt Assenmacher, a Grand Blanc bike retailer, also suggests metal studded tires that provide bikes with superior grip on ice. "They'll give you grip on any kind of ice," he says. Prices range from $40 to $200, depending on size.
As far as accessibility, the Michigan Department of Natural Resources lists nine parks on their website that offer year-round biking with a nod toward fat tire biking. These trails are also open to cross-country skiers, so sharing the path is encouraged. If you want to check it out for yourself before making such a big purchase, many places offer rentals in addition to trail access. Michigan.org has a list of such places located around the state.
Whatever your level of biking, there is something to keep you pedaling through the cold months. Moilenan sums it up perfectly. "Overall, it might take a little creativity, a little extra cash, and the will power to stay active in winter months, but it will always be followed with a collective sigh of relief among cyclists when the snow melts and warm temperatures return.