Reading Time:
4
minutes
By Amie Carter, Parent Petitioner to get Autism Approved as a Qualifying Condition for Medical Marijuana in Michigan
My life has been a whirlwind of unexpected twists and turns since my son, Jayden, was diagnosed at 3 years old with Asperger's Disorder, ADHD and Oppositional Defiant  Disorder.
Jayden was a difficult baby. He had colic and was never content. He cried all the time, to the point of it seeming like he was in extreme pain. He had three seizures before he turned 1. soon noticed he had sensory issues. He wasn't sensitive to touch or pain; he would head bang. He was sensitive to sound and lights, and would only eat certain foods. He rarely slept over three hours at a time. By the age of 3, he had seen two different neurologists. He started seeing his psychiatrist at the age of 5.
Jayden had very little remorse. When he was good, which was about 80 percent of the time, he was the best. The other 20 percent of the time, he filled with an impulsive, violent, defiant rage that was unpredictable. He would kick, hit, spit, bite, pull hair, and threaten to kill himself or the people around him.
When he was 7, they added the diagnosis of Disruptive Mood Disorder, and Bipolar Disorder NOS (not otherwise  specified). Jayden continued to get more violent and aggressive as he got older. He has spent over 125 days in mental health hospitals in five years. He was suspended from school several times, and the classroom he was in had to be evacuated numerous times. At the age of 7, he was put in a holding cell by the police. At 9, they wanted to take him to Flint, Michigan's juvenile detention center. He ended up being hospitalized for 27 days, and also went to a long-term treatment center for 60 days. Just a few weeks later, he was back to being controlling, aggressive and very irritable.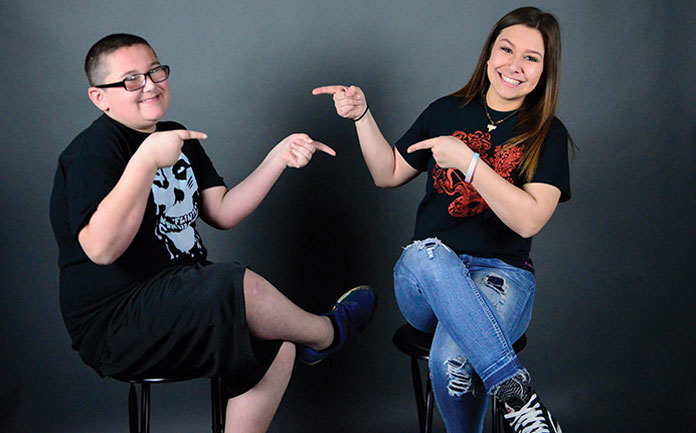 By the age of 10, Jayden had been on numerous different medications including anti-psychotics and nothing was working. We had cut out fast food and red dye. He had received some neurofeedback therapy, and I still didn't feel like I was on a path that was getting through to him. After what seemed like an eternity of dead-end streets, I decided to get Jayden his medical marijuana card for his nausea and headaches. What I learned is that it allowed him the ability to have more self-awareness and empathy for others. It calmed his aggression and allowed him time to process his thoughts. It's almost as if Jayden didn't have the ability to use the tools we had been teaching him.
I honestly had no clue what I was doing, so I decided to research the heck out of it! Three years later, and I am still learning! Don't feel like it's something you have to master all at once. I've learned a few things along the way that I would like to share with you.
Cannabis isn't a "cure-all." My son still struggles with everyday tasks, but it is a night and day difference. Cannabis has given Jayden the ability to process his thoughts more  clearly. This has not only improved his instant reactions but has also allowed him to utilize the "tools" in his toolbox. He still goes to therapy and we still receive services through our local CMH. We have taught Jayden several coping skills to deal with his mental health that only since cannabis have I ever seen him grasp or utilize. I have watched as cannabis has been more effective in Jayden's life than any pharmaceutical drug or therapy. I get emotional at times because I can remember praying for years to find some impactful help for my son. We struggled as a family for over six years before I found that cannabis oil was going to be the game-changer for us.
Depending on the child, you have a few different options. CBD Full Spectrum Oil is a  great start. Many parents find success with CBD oil. CBD is a component extracted from the cannabis plant that helps with anxiety, but it doesn't have the same ability to create a "high" or state of euphoria as marijuana or THC. When a child has more extreme symptoms such as aggressive and violent behaviors, they may need THC cannabis oil. THC causes psychoactive effects like dysphoria and euphoria. In my eyes, it resembles more of pharmaceutical medication. Given the fact that my son was aggressive and violent and also on five different pharmaceuticals, he really needed the psychoactive effect. Since then, I have been able to wean him off of the majority of those pharmaceuticals (Abilify, Lamictal, Lexapro, and Lithium).
If you are a parent considering trying cannabis for your child, please remember this is foreign to us. Usually, the pharmacist hands us a prescription and instructions. We are on the forefront of medicating in a whole new way. Every person metabolizes differently. It's trial and error. Start small and increase as needed. There is so much to learn, so be sure to do your research and document everything. If you have any questions or would like a consultation, please feel free to contact me through my nonprofit organization More Than Hope at www.facebook.com/morethanhope/.