Reading Time:
9
minutes
By: Rick Marschall
Dan Nevins – Miracle Man
Double-Amputee, Escaping Death In An Ied Attack In Iraq, He Now Runs Toward Life And Teaches Others How To
There are a lot of sayings we hear in life that involve legs. "Knocked the legs from under him" – surprise, deflation, hinting at defeat. "Doesn't have a leg to stand on" – no valid arguments or proper justification; losing before you realize it. "Getting a leg up" on someone – when you have an advantage.
Dan Nevins is someone who is sensitive to all those sayings. They don't hurt – not this double-amputee from the Iraq War. If anything, reminders of his accident and recovery only spur him further. He continually adds to an amazing list of accomplishments. Maybe more important, he encourages and inspires others.
Some day, there might be a saying, "Double-amputee like Nevins" – it could be in the dictionary, meaning someone who overcomes odds, triumphs in uncountable ways, and is a virtual poster-boy for resilience. He is more than a conqueror, and is more active than he was before the IED "shattered his reality" in an instant.
The 45-year-old former Staff Sergeant grew up in Baltimore. Prompted to serve because of the Gulf War, he joined the Army two days after high-school graduation. He served for eight years and then returned stateside and worked various jobs. As a member of the California National Guard he was in Iraq in 2004. On patrol outside of LSA Anaconda in Balad, he and four other soldiers, including his superior officer and good friend Sgt First Class Mike Ottolini, set out in the pitch-black 4 a.m. darkness on a counter-insurgency operation.
Their HUMVEE hit an Improvised Explosive Device, the "face" of what makes the wars in the Middle East so different than previous wars. Fixed battles; bayonets; timed invasions – all given way to poison gasses, local women and children who might ignite bombs any moment, and bizarre instruments of maiming and torture. The IED under Mike killed him instantly, metal and shrapnel flying through him. Three others were injured or unconscious.
Dan was partially conscious. He had been in the rear passenger seat when the booby-trap pair of 155-mm artillery shells exploded beneath him. He would have thrown from the vehicle, but his legs were caught. Half-conscious, he felt around his body, and when he go to his legs, he was aware of arterial blood loss, squirting as his heart pumped.
What did he do? What would any of us do? – we don't know until, God forbid, it happens to us.
"I'm done," Dan remembers thinking. "I made my peace with God. Did my life pass before my eyes? No: I quickly reviewed the dreams I had had; I 'saw' my daughter walking down the aisle someday… without her dad." Today, almost 14 years later, Dan's voice still chokes with emotion.
"Luckily" his medic responded immediately. He remembers blinking… his medic, Dan Smee, applying tourniquets… bandages… the stretcher… getting back to the base… and somewhere in the fog, a combat nurse combing mercy and frankness, telling him, "You are a lucky man. We managed to repair your femoral artery. We had to take your left leg below the knee, and we saved the right leg… for now, but you will probably lose that too."
It "shattered his reality," as Dan remembers. A nine-month deployment turned into – well, the rest of a very different life.
The next thing Dan knew, he was at the American Army base hospital in Landstuhl. Then, in and out of surgically induced fogs, in and out of pain, in and out of reality. He "saw" his family in imaginary photos on the wall. He was aware of other casualties in his ward, and aware that, at 31, he was a stranger surrounded by 18- and 19-year-olds. He dealt with Traumatic Brain Injury (TBI), and did until recently. Experiencing varieties of "survivor's guilt," he had mixed emotions about his friend Mike – had he gotten the better deal? Look what he has been spared. The pain. The challenges to the ego – all the references people used to make about "half a man."
What was ahead? What?
Ahead were miracles, disappointments, and a long, long road. Within a week he was in Walter Reed Army Medical Center outside Washington. We can telescope these next chapters in Dan's life, and refer to the hills and valleys – there were many of each. He spent 21 long months in Walter Reed. Sustaining difficult injuries, with complications, he underwent 32 separate surgeries.
… that is 32 surgeries during which Dan underwent rehab, walking on crutches, fitted with prosthetic legs until one "fit," until he yielded to doctors' advice that he must face giving up the "good" leg, too. More surgeries; 36 in all.
Being fitted for two prosthetic legs ironically was "one of the best decisions" Dan ever made. It increased his overall mobility and opened up new vistas. Behind him, however, and still with him were other casualties. The lingering TBI effects; a failed marriage; learning to walk again; pain; sleepless nights and "all the wounds people don't see."
At this point in Dan Nevins' story you might be shedding some tears, despite the assurance that he himself shed few. You know already that Dan is the type of guy who might be down but is never out.
With that to tease you, you might not be surprised to learn that the double-amputee vet had the kind of triumphs the rest of us dream of. He became a nationally famous speaker – motivational speaker, you might expect, but a major advocate for disabled vets. Natch.
Oh, and he is a major figure in the movement that sees many people take yoga to a new level. He speaks, teaches and demonstrates in venues far and wide.
Whoops, we almost forgot. For his many efforts and activities and successes, he has met the past five presidents of the United States. Several times, a few of them. Guess what – George W Bush painted his portrait.
Some readers might be thinking, "OK? What's next? Are you going to tell us that Dan Nevins climbed Mount Kilimanjaro?"
Uh… yes, Dan did that too. After he "lost" his old legs. All the way to the top.
There seldom has been such a Chapter Two of a life that was so impressive to begin with. Here are some of those details…
After his hospitalization, Dan held several jobs until, impressed by the goals and activities of the Wounded Warriors organization, he started making appearances for them and rose to hold the title Executive Vice President of Events. Of course he was able to connect his experiences in uniform and after hospitalization to his advocacy. Soon he recruited others with similar stories to tell and became Director of WWP's "Warriors Speak" program.
Warriors Speak is a group of wounded veterans and caregivers who share their motivational stories of service and sacrifice with the public to raise awareness for the needs, incliding PTSD challenges, of injured military service members, their families, and caregivers. They share how Wounded Warrior Project has aided in their recovery process and helped in the transition back to civilian life. They speak at Conferences, dinner parties, lecture series, luncheons, meetings, broadcasts, ceremonies, formal receptions, etc.
Dan vividly remembers that on his very first day at Walter Reed, in Ward 57, a nurse introduced him to visitors from Wounded Warriors. "Frankly, I had never heard of the organization. But they gave me a backpack filled with comfort items and notes from grateful Americans, saying "Thank You." He recalls with a chuckle that there was a pair of socks, too; but the major takeaway was "they showed up every day I was in the hospital. Every day!" It was a willing and eager Dan Nevins who joined the organization after discharge.
"You know, Wounded Warriors serve 120,000 warriors and their families every day. There are close to 500 employees, and over a dozen free programs that promote mental health and physical health and wellness, economic empowerment and engagement." Although no longer on the staff of WWP, Dan often speaks pro-bono for the group.
He is an enthusiastic advocate of private charities and non-governmental, non-profit advocates for veterans. "The government is doing all it can, but, well, bureaucracies aren't always the best answer," he said. Non-profits, he says, "can do what they want and go where they want based on needs of the vets, because they want to, not because have to."
Dan has appeared on several television shows (for instance, the Steve Harvey Show) and recently was at a White House ceremony… introduced by President Trump, whom he admires, and who impressed Dan with his sincere feelings about vets and improved care.
He met the first Bush and Bill Clinton after they left office; and Obama in the White House. The president who has impressed Dan the most is George W Bush. They met in the Oval Office, and Dan has golfed in the Bush Institute's Warrior Open tournament. "He's as real as they get," is his assessment of Bush. "After the first I met him, two years passed before he saw me again. He remembered my first and last names, and many facts about my life. Amazing.:
After retiring as president, Bush took up painting, and his portraits and animal paintings have been exhibited. A collection of veterans' portraits comprised a traveling exhibition, and were collected in a best-selling book, Portraits of Courage. Dan Nevins's portrait is prominent in the book… of course. The caption, a short assessment of Dan and a few of Dan's own words, reads,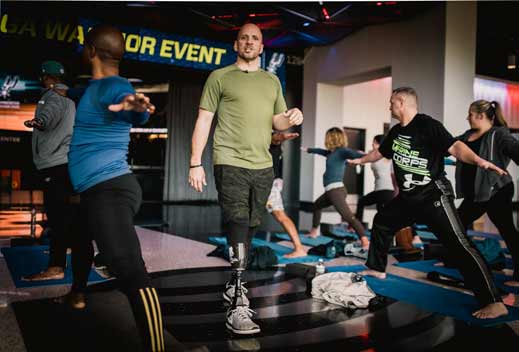 Staff Sergeant Dan Nevins. United States Army, Army National Guard. "It was yoga and meditation that have helped me heal completely and find new purpose." Dan Nevins is now on the road most of the year teaching and inspiring others to embrace the healing power of yoga.
Devoutly religious ("I am a Christian man!") Dan is quick to point out that his interest in yoga is physical and, in a special way, spiritual; and he has a consistent meditation practice. But his advocacy is not new-age but rather self-help: "At one point when I was a full-time speaker I occasionally found myself in a dark place emotionally. A friend recommended yoga; I was at the end of my rope, so I gave it a try."
He remembers: "The first lesson was awful! The second was as well, and I didn't understand the slogans, and I hated it." But one of the slogans – one of the visualizations – was to press one's feet into the ground. "Root down, to rise up!" Not easy for an amputee. But he decided to try the same method with his "legs" off. The teacher was shocked when Dan threw the prosthetics across the room… but pressing his legs, where they now stopped, into the mat and following the advised methods, also with arms raised, "was like the earth shot a jolt of energy up through my body, out of my hands and over my head."
It was a new dawn. Predictably, Dan became an instructor himself and has logged more than a thousand hours learning, teaching and instructing. Additionally, he continues to make motivational speeches, Wounded Warrior and veterans-care presentations, all across America and around the world, to small and large groups.
On May 26, 8:45 p.m., Dan Nevins will speak at Genesys Health Park in Grand Blanc.
Recently a Marvel Comics superhero, based on Dan and his close consultation, hit the stands – VENOM, Space Knight! Super, indeed, as if being the world's only double-amputee yoga instructor is not super enough!
Dan's super-ascent of Mt Kilimanjaro was not flying through the air like a comic-book character. He trekked every step of the world's highest free-standing mountain. "I climbed with two other amputees – one a "double," the other with one leg; one buddy I met in the hospital, and the other was head of Disabled Sports USA." They took an inventory and calculated one 63-year-old leg between the mountain climbers.
Returning to a reference to his faith, Dan says, seriously, "I truly believe that Divine intervention saved my life. I was the only soldier of five in the truck that remained conscious. My medic responded immediately. I overcame many, many deadly infections – I had three of the worst kinds at one time – and I have survived." He was saved for something bigger.
"When I am doing my work, speaking, training, encouraging… this is where I should be!" he says with conviction. "I am truly blessed."
Dan's other job these days "is to be the best dad, and best man, I can be." He has a new love of his life, Kaylin; and three daughters – Karyssa, 24 (10 when he was wounded); 8-year-old Carly; and Catherine, born just more than a year ago.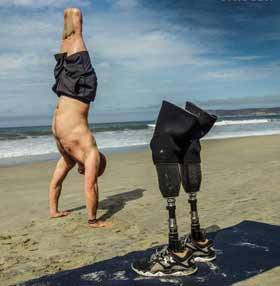 It could be said, employing another cliché, that Dan Nevins cheated death. Philosophers and cynics can debate that, but in the meantime this amazing man has packed more passion, and activities, and optimistic dreams, into enough for several lives.
In the case of Dan Nevins, retired Staff Sergeant, US Army, master of all he undertakes, he teaches us that it is not a matter of cheating death. He teaches the world how to live.
dannevins.com
Anyone interested in attending the free yoga workshop can register by phone at 810.606.7300 or visit genesysathleticclub.com.