Reading Time:
4
minutes
By Christine Landaal and Jen Ream
The concept of Vibe Well was created from of our passion and love of the mind, body and soul connection to all things—emphasizing the importance of nutrition, mindset, self-care, love and movement. Our space reflects our lifestyle, and it's a lifestyle we've chosen over the years to heal not just our bodies, but our emotions and our mindset too. Living a vibrant, energetic and joyful life NOW is our mission.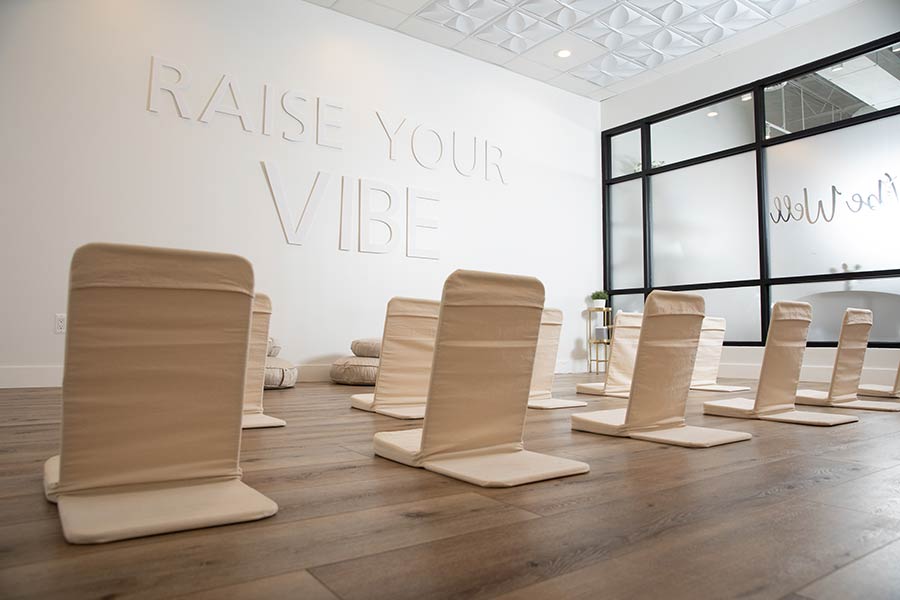 Our society and culture have programmed us to be disconnected from our bodies and the very moment we're in. When we reconnect by going into each day with the set intentions to live our best life now, and focusing on growth without limitations, we all have the capabilities to be in this desired place that so often feels unobtainable. Our goal with Vibe Well is to serve our community in a way that allows people to attain healthy living more easily. This comes in the form of education on the "why" behind everything we do, including the foods that we provide, our sourcing, our classes, and the importance of the energy in our space.
The idea of Vibe Well came out of inspiration to take what we do in our own lives and share it with our communities in a way that simplifies living a life of wellness. Daily, we see the circle of entrapment that our society has created, not just in the food and beverage world, but also in the form of stress and a murky mindset. So often people feel that it's too hard to get out of the cycle of unhealthy cravings, negativity, and habits that aren't serving our highest good. However, we know there are so many tools that we can share that work to balance all of these areas to lead a life full of happiness, vibrancy and good health. It's never too late because we always have this moment to choose differently. With accountability, guidance, and encouragement, all things are possible. When someone walks through our door, we strive to create an experience for them that is full of love and compassion for what they may have gone through before they came in. This isn't always easy, and it's something we also train our team to do. We can't take things personally, and 99 percent of the time, we just need to love more.
At Vibe Well, we offer organic cold-pressed juices that we make fresh and bottle for the ease of grab-and-go. We make smoothies using only organic frozen and fresh fruits and vegetables. We also offer what has become our fan favorite, the acai berry bowls, topped with the most delicious granola, fresh fruits and superfoods. Our entire bar is free of the Big-8 allergens: milk, eggs, fish, shellfish, tree nuts, peanuts, wheat and soy. We were inspired by Christine's son, Robby, who was born with many life-threatening food allergies, so it was incredibly important that we do our best to include everyone and allow the opportunity for all to enjoy our space. Each of our ingredients has been chosen with the utmost intention and integrity. We have carefully hand-selected everything to nourish our bodies in a way that heals, prevents, and allows us to thrive daily. We can guarantee that our sourcing is conscious of all things from the seed, to the season, to the premium quality we provide, and because our philosophy is based on continuous growth, change is constant for us. When we research and learn that something may not be optimally serving our bodies anymore, then we head in a new direction—whether that's changing out an ingredient or focusing on the latest superfood. We want to take the guesswork out of the information overload out there, as well as create a trust that we have done our due diligence in every little detail of our menu.
There is also no one-size-fits-all approach to living. One person's superfood could be another person's poison, which is why we educate on the importance of tuning in to our bodies and truly feeling how we are in every given moment. Knowing that there are options and tools out there to keep us going in the right direction is key. Eating whole organic foods from the earth, being mindful, meditating daily, reflecting and connecting with others…all of these things are not the latest trends or another diet. It's a lifestyle and one that is possible for all with some awareness and intention.
Our wellness studio inside Vibe Well was created to hold space for whatever may be needed at the moment, whether that's health coaching, guided meditation, community entrepreneurs, wellness practitioners, advocates, sharing our passions, and/or connecting. When our space is not being utilized, it's always open for our community to drop in and use for self-directed meditation.
We knew when creating Vibe Well that it was bigger than us and that it wasn't going to be just another juice and smoothie bar, but what we didn't know is that it would become our sacred refuge. So we would like to invite you to come and feel uplifted, and leave with a renewed sense of direction and peace in your heart. We look forward to serving you in this way.
Vibe Well
495 N. Fenway Dr.
Fenton, MI 48430
810.208.0201
www.vibewell.com
Hours of Operation:
Mon.-Fri., 7 a.m. to 6 p.m.
Sat., 8 a.m. to 4 p.m.
Sun., 8 a.m. to 4 p.m. (for juices only)