Reading Time:
16
minutes
By: Rick Marschall
Seven Genesee County high school seniors participated in the 2019 Gleason Community Fund Scholarship Essay contest. All participants and family members, and the three juried winners, participated in an event on May 6 at Hurley Medical Center in Flint.
The ceremony recognized the scholarship winners, all challenged to write essays about the importance of organ donation, registering on Gift of Life lists, and the lives that can be changed. Melina Smith of Atherton High School was awarded first place honors (a $1,500 scholarship); Kaylee Czyzio of Flushing High School, second place ($750); and Hailey O'Malley of Hill-McCloy High School of Montrose, third place ($250).
Other contestants included Dominick Carvounis of Flushing High School, Emma Ford of Linden High School, Ayla Piggott of Flushing High School, and Alaina Strauss of Atherton High School.
John Gleason established the Gleason Community Fund in 2018 as a nonprofit committed to educating the public about organ donation. Each year, the fund offers three scholarships totaling $2,500 to high school seniors who commit to pursue a career in medicine, preferably in transplant medicine.
Judges for the contest were Eileen Button and Rebecca Myszenski of Mott Community College; and Dr. Linda Lee Tarver, formerly of the Secretary of State's office. Present at the ceremony were Jim Milanowski, president and CEO of Genesee Health Plan and sponsor of the scholarship competition; and Shannon Ciszek, GHP Communications Coordinator.
Ciszek spoke about GHP's work and the goals of everyone in the room. "For more than 17 years, Genesee Health Plan has helped deliver health care services to many employees of small businesses and entrepreneurs that have struggled to provide health insurance for their employees. The recent voters' renewal of the Genesee County Health Care Services Millage—which funds the health care services provided by GHP—provides coverage for thousands of uninsured Genesee County residents. GHP has made a difference.";
Ciszek explained that GHP has helped to make regular health care more accessible, which may also allow a physician to identify and treat a chronic condition before it worsens. In addition, GHP provides coverage for preventive services,such as cancer screenings and mammograms.
"Early detection and prevention are key to developing a plan for better health. 25,000 individuals who were not offered health care coverage by their employer are able to get coverage through GHP. Flint and Genesee communities benefit greatly from GHP because employees without employersponsored insurance can get covered by the plan, see their doctor regularly, and receive routine care to help them live healthier lives both professionally and personally," Ciszek continued.
Genesee Health Plan has provided care to more than 90,000 people since its inception. That is one out of every five Genesee County community members who have been on the health plan at some point since 2001."
In a touching portion of the ceremony, the three winning writers read their contributions from the microphone. There were few dry eyes in the room
at Hurley.
Kyyba Health & Life magazine is proud to share their essays…their stories, their affirming of life. We assured the Gleason Fund of our support by committing to run the essays; and we hope to do so every year.
CARA'S STORY
The week of March 26, 2017 changed my life forever. The week was like any other, yet it managed to become both a blessing and a nightmare. Within this week, three people got generous gifts that they could not possibly know were coming. These gifts were a blessing and had answered the prayers of the patients families. However, it was my family's nightmare; for the giver of these amazing gifts was my fifteen year old sister. My sister Cara passed away on the morning of March 26th and not soon after her gifts were on transit to some very eager patients. This beautifully scary week not only tore me apart, but taught me the importance of organ donation.
Cara was born with hydrocephalus and spina bifida and was determined to live every day to the fullest. Her hydrocephalus, like many others, made her dependent on a shunt inside her head that would drain cerebrospinal fluid from her brain. She went through over forty surgeries in her short fifteen years. Many of these surgeries were shunt revisions to fix or replace a faulty or damaged shunt. She was also wheelchair bound from the spina bifida. She seldom complained but faced every day with a new perspective and a smile for her true love of life. She was and still is my role model; my true superhero. She is the strongest person I ever met even though she was the younger myself. Now she has put me on the course of my passion to impact the lives of others, both in life and after.
Every few years, there is a new advancement to the design of the shunt; each one getting better for all of the patients who depend on it. Cara had over thirty different revisions, the last shunt kept her alive for nearly four years or so up until the morning of March 25th. We believe her shunt was acting a few days prior to the 25th without anyone realizing. We found out later that it had been working slowly for that time due to a clog which caused the fluid to back up into her head. This made her drowsy and barely conscious that morning with a headache. After talking to her neurologist, my parents were getting her prepared to drive a hour and a half to Children's Hospital in Detroit.
It did not take long for Cara to start to seize after my parents talked to her neurosurgeon. She was rushed to a nearby hospital but her seizures did not let up. Upon arrival, doctors tried their best to stabilize Cara. However not long after arriving, Cara had brain hemorrhage. The doctors had not thought to ask my family if we were willing to donate due to her situation. We knew though that Cara would have different plans for her afterlife care.
Cara was a generous person and wanted to help all people. She also knew how generous other people can be to those in need. A year before she passed, she was inquiring about organ donation. She was afraid that nobody would take her organs because her body had been through a multitude of surgeries. After she was declared brain dead, my family was faced with a very important and life changing decision: Should we see if it is possible to donate any of Cara's organs? It did not take long for all of us to make the decision that we knew Cara would have been elated with. We had to wait nine hours for Cara's body to be on life support to make sure that the initial diagnosis of brain death was accurate to be able to donate her organs. Sadly, Cara's body did not make the time frame; her body was giving up and her organs were failing. Everyone was devastated because we wanted to salvage some good out of this nightmare. However to our surprise, Cara was able to donate three things that were equally important: her corneas, heart valves, and some skin tissue.
As with every donation, Cara's donation helped change the lives of people forever. Corneas go to people who are blind from some corneal diseases. With that single donation, someone can now see again. Cara's heart valves went to a twenty-something girl in college. Without that, a woman could have died from a problem that could have easily been fixed with a surgery. Skin tissue donations go to people who are suffering from all kinds of different burns. The new tissue gives people a new look and restores their confidence. Many other organs can be donated as well, and with each one, there is a new possibility of bettering another's life. Sadly, Cara's body was not able to preserve more of her organs for donation, but what she did give was still a difference in the world.
Knowing that Cara still made a difference, I feel much more at peace about her death. Death is not the easiest thing to come to terms with, but learning about the donation helped tremendously with my grieving process. After learning from The Gift of Life about what was donated and who it went to, I had a smile on my face. I like to believe that everything happens for a reason, and Cara's death happened so that a little boy can see again, that a young woman could live, and that other people can have another chance at a "normal" appearance. Gifts like these are hard to come by sometimes .If I have the chance to donate an organ or tissue to someone in need, I definitely will.
Organ donation has always been something that I thought was amazing. To be able to help someone live or live a better life was something that I knew was important. The experience that I had that week with Cara has made my decision permanent and now I am a registered organ donor with the state of Michigan. Organ donation is incredibly important, especially to the patients and their families who need a specific organ to live. There are people of all walks of life who are awaiting organs: inspiring artists, leaders, cancer patients, children, parents, soldiers, etc. The list is endless, but so is the possibility of donors.
Every 10 minutes, a person is put on a transplant list with approximately 115,000 people on the list in the United States alone. The importance to become an organ donor becomes greater each day. The waiting lists could be incredibly smaller if people signed up to be a donor. There needs to more education designed to persuade others to become donors. We need more people who are willing to talk about their experience of receiving an organ. Donor families could also talk about their loved ones story and how the donation helped bring light to an otherwise horrible experience. I believe that these stories could increase the number of donors and decrease the incredibly long list of eager patients in need. This is the last chance to leave a positive mark upon the world by changing and even sometimes saving a life.Which is why I believe all people should consider organ and tissue donation.
After Cara passed, The Gift of Life Foundation invited my family and I to an event for recipients and donor families. There were activities including
making a quilt square dedicated to your loved one who donated. Each quilt square is put together to make a quilt, all in memory of those who did donate to help someone else. The main part of this event was for several recipients to speak on their experiences with organ donation. One of the most moving stories was from a woman who has had two cornea transplants. She never saw her children's faces until after her transplant. If all people could attend one of these events or simply hear the stories from those who benefit from donation,I believe many more people would become a registered donor.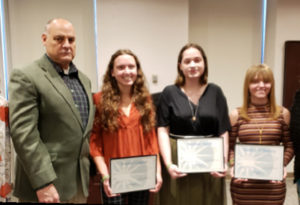 Not only do I want to donate my organs when I pass, I also want to be a pediatric surgeon. Becoming a surgeon would give me the chance to have a
hand in bettering the lives of children all over the world. I have met a lot of surgeons and doctors through Cara's many experiences at the hospital, watching them help Cara over and over, and I want to help children in the same way. From giving life changing surgeries to giving elective ones that make lives easier, being a surgeon is my goal for my life.
I have never realized just how much of an impact of having Cara as my sister would have on my life. Now I know that she has helped me recognize the importance of organ donation. Not only is it important to the recipients, but it also helps the family of the donor in their grieving period. I have learned this through my experience, but also to listening to the stories of others. I found my desire for my future career in helping those in need all because of my little sister. Through the wonderful good and the unfathomable bad, I am forever grateful for being a part of Cara's life.
LEARNING ALL THAT WE NEED TO KNOW
After I graduate from high school, I plan to pursue a degree in biomedical engineering. Within this degree, I plan to specialize in the field of biomaterials which focuses on the study of naturally occurring or laboratory designed materials used in medical devices or as implantation materials.
This specific discipline really captured my attention due to its ongoing development of artificial organs. With the creation of artificial organs, the need for organ donation would be completely eliminated. However, the complete replacement of live organs with artificial ones will most likely not occur for at least a decade as necessary technology is still developing.
So, there is still a great need for organ donors and the gift of life they provide to those in need. In the United States alone, approximately 114,000 individuals are on the waiting list for a lifesaving organ transplant while over 100 million individuals are registered organ donors ("Organ Donation…"). Unfortunately, 20 people in the US die each day (about 8,000 deaths a year) while waiting for a transplant and another person is added to the waiting list every ten minutes ("Organ Donation…"). On a global scale, the numbers are much more harrowing, as 20,000+ people die every year while waiting to receive an organ transplant ("GKT1 Activity…").
Organ donation affects hundreds of thousands, if not millions, of people worldwide. Nearly 100,800 successful organ transplants are performed internationally every year and over 750,000 transplants have taken place, a statistic that validates the widespread benefit of organ donation ("Organ Donation…").
The individual who receives an organ is affected along with their family andfriends, the organ donor and their family and friends are also affected, resulting in a large network of individuals whose lives have been altered by organ donation. Becoming an organ donor provides an individual with the opportunity to save up to eight people and a tissue donor can increase the quality of life for up to 50 people ("Organ Donation…").
Clearly, signing up to become an organ and tissue donor is a decision that could benefit a large number of people. However, this decision is not one that should be made lightly as it is a decision that affects both one's self and one's family. In order to ensure that an individual's wish to become an organ donor is carried out in the case of their death, it is vital to first gain the consent of family while making the decision to become an organ donor. In the United States, 95% of adults support organ donation, but only 58% are actually signed up as organ donors ("Organ Donation…"). A 37% difference that I believe is a result of the poor advertising surrounding organ donation.
I myself signed up to be an organ donor when I received my driver's license, a process that was quite simple. But, this method of organ donor registration has only been popularized within the last couple of decades and may have been overlooked by many people. In addition, preconceived myths about organ donation serve as an obstacle that prevents individuals from registering as an organ donor. Myths that doctors will not try as hard to save a registered organ donor's life is a misconception that has prevented numerous people from signing up for organ donation. The belief that a donor's family will be charged for the organ procurement process is also a myth that has deterred people from registering ("Facts and Myths…").
Many people may also believe that they are too old to donate their organs. However, all three of those statements are false. The first priority of any medical professional is to save lives without prejudice or discrimination and organ donation is not discussed until after death is declared. Additionally, the cost associated with recovering and processing organs or tissue for transplant is never incurred on the donor family, however, expenses obtained before death will be the family's responsibility. And most often, age does not play a factor in a donor's eligibility as one in three deceased donors are over the age of 50 ("Organ Donation…").
As I said before, I believe that better advertising is a major step in encouraging people to become organ donors. One of the first steps I would
take to improve organ donor registration is to have nonprofits dedicated to organ donation, such as Donate Life, make a presence for themselves on social media. Currently, Donate Life has 14.5 thousand Instagram followers, 234 thousand Facebook followers, and 11.3 thousand Twitter followers. For a cause so large and meaningful, these numbers are relatively small. In order to increase social presence, these nonprofit companies should hold creative contests, update their profile pictures monthly, encourage tagging within their posts, pay for social advertisements, and make it easy for followers to register.
Something as simple as creative contests can bring in thousands of followers if done correctly. To achieve the best results, the contest should be promoted everywhere that is possible and entrants who don't win should always be thanked for their participation in the contest. Updating profile pictures and biographies is another easy way to increase social media presence. By doing this, an organization can show that it is both personable and dedicated to a significant cause to its supporters and potential followers.
Encouraging tagging within posts is also an effective strategy to engage and gain followers. If an inspiring story is told, write "tag a friend who inspires you!" The new people it draws to the account may join the cause. Furthermore, paying for social advertisement can promote content, invoke conversions, and increase exposure Organ donor registration has taken significant steps toward improvement in the past couple of years, but there is still more to be done…. Organ donation could also be encouraged by the circulation of emotional videos. As many people know, organ donation is a gift that affects multiple families. By signing up to be an organ donor, a person has the potential to save multiple lives and enhance the quality of living for countless individuals. This choice can also be a rewarding and positive experience that may help the deceased donor's family cope with the grieving process by knowing that their loved one's tragic death helped save the lives of others.
Emotional videos can be shared by nonprofit organizations to raise awareness for their cause. If the video goes viral, millions of people worldwide will see it. In order to go viral, the video must be rich in heartfelt emotion, a concept that is most likely not difficult to find in a majority of organ transplant recipients and deceased organ donor families. Sharing emotional videos in which happy, healthy donor recipients are able to meet with and comfort the family and friends of their donor would show the world the true benefits of registering as an organ donor.
This decision is not about the fame or fortune, simply the power of loss and unrequited kindness between strangers.
I recommend visiting "Facts and Myths about Transplant." American Transplant Foundation, www.namericantransplantfoundation.org/ about-transplant/facts-and-myths "GKT1 Activity and Practices" World Health Organization, 11 Dec. 2013, www.who.int/transplantation/gkt/ statistics/en/.
"Organ Donation Statistics," Donate Life America, www.donatelife.net/statistics/.
ORGAN DONATION: WHY IT IS IMPORTANT AND WHAT WE CAN DO
I am currently a senior at Hill-McCloy High School, and will be attending Eastern Michigan University in the fall to pursue a bachelor degree of science of nursing. I am 17 years old and I understand the importance of organ donation and the way it can help others. Without organ donation, a lot of patients would die from fatal circumstances far out of their control. I personally can attest to the importance of organ donation because my older sister, Larissa, was diagnosed with leukemia when she was just four months old. Her story has a very happy ending but it did not always seem like that would be the case.
My mother was told that Larissa was not going to survive around the time of her second birthday. There were not many options left for her except for bone marrow donation. Luckily, a woman was able to donate some of her bone marrow and my sister made a full recovery and has been cancer free for 18 years. Although bone marrow is not an organ, I believe it still follows the same idea of organ donation. Without the woman's donation, my sister would not have made it and I would have never been able to meet her. This happens to people worldwide because not enough people are able to donate. There are many reasons for this, including religious beliefs, circumstances of death, and even things like STDs. These are all valid reasons, but unfortunately, a lot of people do not donate simply because they do not want to.
Scientists today have discovered that it is possible to grow artificial organs in a lab that can be used in place of organ transplantation. According to Futurism. com, "around the world, lists of patients in need of an organ transplant are often longer than the lists of those willing (and able) to donate." I feel like this research advancement would not have been discovered at this time if more organ donations had taken place in the past. This discovery would not have been so necessary for today's patients if more people were willing to donate. This research advancement is remarkable, and I am not meaning to take away from that, but I feel as though this research would have been not nearly as necessary if more people had joined the donor registry to help patients in need.
In today's world, people are so quick to share something on social media about a child needing an organ donated tothem, but very few are quick to act on it. Why is this? I believe it is because people do not truly understand how dire the situation is. That child may be known around the world from repeated shares and likes and comments, but how many of those shares, likes, and comments have actually benefited the child? I believe it is not very many. That child's chance of survival depends on the donor list and finding a match. A lot of patients pass before they get a match. Unfortunately, I know this is true. I have recently seen a post on Facebook about a young boy needing a partial liver transplant. I clicked the link to read more about him and found out that I was not a match. I was disappointed because there was nothing I could do for this boy except share the link and hope someone took the time to read his story as I did. I saw a post a week or so later, stating that the young boy had passed away while waiting for a donor. His story is a sad one and I just hope that people can learn from this situation and do better in the future. I hope that the family of this young boy can heal and share their story to inspire others to become future donors.
Before you get your driver's license, the workers at the DMV ask if you would like to be a donor. When I went to get my license and they asked me, I was ready to say yes. Unfortunately, my mother did not agree due to her religion. My mother is a Muslim woman and in Islam, they do not believe in organ donation. Most people would have gone along with it because really, what teenager truly cares? What I did shocked my mom and the woman who had asked me. I looked at my mother and said, "what about Larissa? What if she had not gotten the donation she needed?" She stated that it was different because the woman had not donated an organ, just bone marrow. I did not want to make a scene so I asked my mother if we could discuss it at home later. I told her that if she does not agree with my stance, I would make the decision for myself once I turned 18. That is still what I plan to do.
Many people do not donate because they do not really think about how it may affect others later on. I feel that if people were more informed about these kinds of situations, they would choose to donate. I feel that people should be given a story to read about someone who needed an organ and how a donor saved their life. These stories will make people think and I believe they will help to push people in the right direction. Many people donate blood because it does not really affect them. I do not understand why it is not the same for donating an organ. When someone dies, should it not be the same way? When an organ is taken from a deceased patient, does it really affect anyone except the organ recipient?
There are some things that prevent people from being donors that could be easily taken care of. According to USA Today, Hawaii is raising the age for purchasing tobacco from 18 to 21. They plan to keep raising the age until 2024 when it is planned to reach 100. By doing this, they are hoping to keep their citizens healthier due to the inability of their young citizens to purchase or use tobacco products in any way. If something similar was done in the continental United States, more people could donate because many people would not have the health risks associated with tobacco. More people could donate because they would not have the effects of secondhand smoking either. This would allow for more people to be able to register as donors and save many, many lives. Some people do not become organ donors because of their loved ones. It is hard for a family member to picture someone close to them being cut up or "dismembered" just to give them away to someone else. It is even hard for people to picture themselves that way. I feel that those people do not really understand the procedure and that the surgeons do not just cut people up. They treat a deceased patient the same way they would treat a living one and only do what is necessary.
They would never intentionally harm a patient beyond what is needed for the procedure.
People will argue that organ donation affects the family of the deceased because they may not be able to have an open casket funeral. That is true, but what is also true is that it is for a good cause. A child may get to grow up and follow their dreams. A parent may get to watch their children grow up. A grandparent may get to share stories of how the world used to be before all of the technological advances of today and the future. An organ recipient may become a scientist and find the cure to cancer or HIV or any other fatal disease. There are so many unknowns that may never become known simply because the perfect donor was unaware of the gifts they harnessed and took with them to the grave.
Raising awareness of the lack of donors and urging people to join the donor registry will save lives all over the world. The world will become a much better place if lives are saved because of someone's generosity and willingness to put others before themselves. Saving lives keeps saving lives, as one recovered patient may move on to save others the same way that their life was saved. Sometimes, not saving lives can even inspire others to become donors to help future patients in need. There are so many ways to inspire people to heal others. I just hope that I can help inspire people myself in the future.