Reading Time:
3
minutes
By Sally Rummel
Sovita Credit Union, serving five counties in mid-Michigan, celebrates those who bring life into the community through the fields of education and healthcare.
If the name sounds unfamiliar, it's only because it's a relatively new name for a banking partner that has served the community since 1934. Formerly known as the Flint Area School Employees Credit Union, its name was changed two years ago to be more inclusive to the people served by the credit union during its 86-year history.
The new Sovita name is also shorter, easier to remember and shows the intent of the credit union to celebrate those who bring life into the community, combining the Latin words meaning "social" and "life."
"The name can be translated from Latin to mean 'the life of the community,' said Jennifer Shew, director of marketing for Sovita Credit Union. "Our commitment is to people in the passion-driven professions of education and healthcare, who use their time, talents and resources to serve others. Our goal is to provide them with the very best banking services possible."
To qualify for membership at Sovita Credit Union, your paycheck or pension must come from an educational or healthcare business, but you don't have to be a teacher or a nurse. You can be employed in any position, from janitorial staff to food service or an IT professional. "Immediate family members can also join Sovita Credit Union," said Shew.
With offices in Genesee County and one office in Lapeer County, Sovita is also open to qualified residents in Livingston, Oakland and Shiawassee counties. But what really set Sovita apart are the unique services that are specifically designed for educators and healthcare workers.
"We know that those employed in education and healthcare are busy," said Shew.  "Sometimes, they only have a couple of minutes between patients, or a short lunch hour to run errands and handle their personal business. Therefore, we answer every phone call with a person to assist members as quickly and efficiently as possible."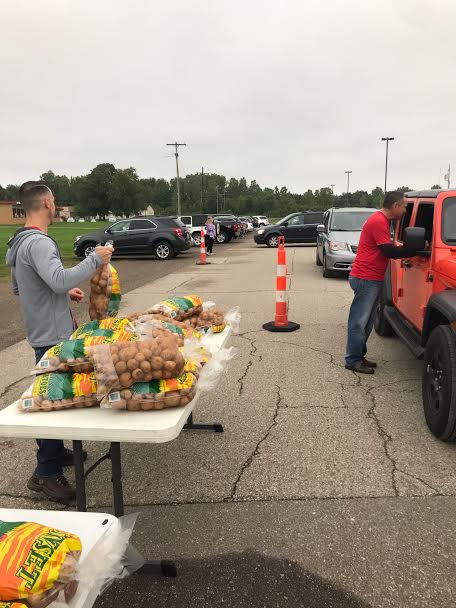 Sovita Credit Union also recognizes that members in the fields of education and healthcare often work long hours or at different times of the day. "Whether members are heading to work early on payday or just getting out from the night shift, their paycheck will be directly deposited to their account early in the morning," said Shew. "We know they need funds and make them available as soon as possible so they can handle their finances."
Sovita is also a partner to support educational or health care causes or organizations in your community. "We support local organizations in your hometown that support education, healthcare, family togetherness and community improvement."
The credit union's unique YE$ to People program is designed to celebrate and support those employed in the fields of education and healthcare. These grants are used to add extra support to special programs and initiatives that individuals have.
"Last year we had a YE$ to People Back to School Classroom giveaway and were able to provide 26 teachers with $100 grants!" said Shew. "We're always trying to find ways to 'say YE$ to People. It's all about building relationships with our members and our member communities."
Other community partnerships have included participation with Voices for Children Annual Children's Champion Awards Breakfast, the Genesee Health Plan Health Heritage Essay and Scholarship Contest, General Health Plan Awards Dinner, Flint Institute of Arts' LEGO Competition, and Starry Nights of Hope – McLaren Hospitality House, to name a few.
What else makes Sovita different than other banks or credit unions? In addition to the financial savings, which includes lower fees, higher dividends on savings accounts and lower interest rates charged for borrowing funds, when members need to borrow funds, they can expect a quick application and approval process. Loan documentation can be completed electronically or at the office, whichever is most convenient for the member.
"We just want to take really good care of our members," said Shew. "Our members are our shareholders at Sovita. Every member has a story, and it's our pleasure and responsibility to get to know them."
Sovita Credit Union locations near you:
Main office:
4411 Calkins Rd.
Flint, MI 48532
810.720.8300
1005 University Ave.
Flint, MI 4854
5399 E. Court St. N.
Burton, MI 48509
3400 Regency Park Dr.
Grand Blanc, MI 48439
168 N. Saginaw St.
Lapeer, MI 48446
(810) 664-5351