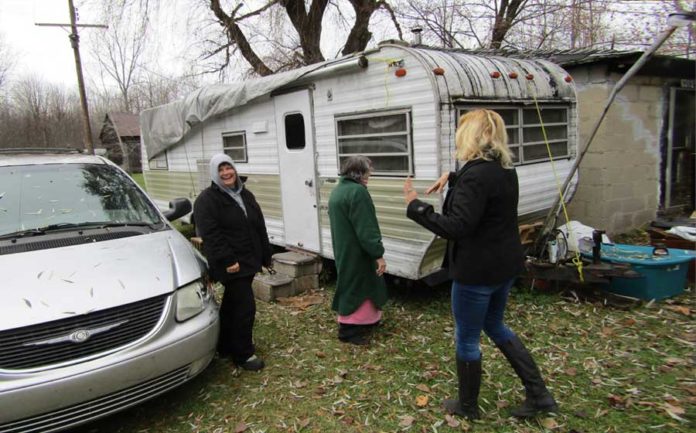 Reading Time:
4
minutes
By Deborah Vance
What enterprising investor wouldn't be interested in a trailer with no heat, no water (dry well), no septic and no power. Oh, and the roof? It's on the living room floor. A retro travel trailer? More like a 1950s-era model that's barely inhabitable.
Welcome to Marjorie's world. Marjorie is a 74-year-old veteran. She came back from deployment to her home. That was quite a while ago. Since then, the house has progressively fallen into disrepair that worsens every season. Hard to believe but true…the roof has for-real fallen into the house and now sits on the living room floor. She lives in the trailer—not nostalgic or hip…mildew-y and sad.
Marjorie wouldn't consider buying this house…even if she could…which she can't. It's actually already hers and she's stuck with it.
She is just short of homeless. The journey of her life has left her with few resources. She is healthy and optimistic but that's not the currency you need to help this house come back to life.
You can imagine the range of emotions she experiences as she stands by and watches as her place of security and only asset collapses.
Habitat for Humanity Lapeer-Tuscola considers itself a conduit of God's grace and agent of His promises. It is devoted to bringing goodness and hope to many in Lapeer-Tuscola counties. They bring hammers and saws, sub-contractors and volunteers, bulldozers and cement trucks, grant money and donations to those in need. It is a testament of faith on their part that God directs their path and clears the way for amazing projects that require their unique contribution (The faith or non-faith of those needing help is not a factor, ever. Habitat for Humanity Lapeer-Tuscola does not proselytize or push religion.).
H4H's path led to Marjorie this time. Marjorie was reading an article about Habitat for Humanity Lapeer-Tuscola in the newspaper when she first learned about their Critical Home Repair Program, and she decided to contact Executive Director Carolyn Nestor. It was a providential moment. Carolyn is a full-on maven…a connector of those in need and those who can help, and the right person for the job if there ever was one. Her enthusiasm is superseded only by the speed and lilt of her voice happily beckoning anyone that will listen… donate, volunteer, "build with us."
When Marjorie called, Carolyn went into immediate code-blue action. Marjorie's situation called for more than just help with her house. She needed help with her life. With no heat, water or power, she was at the mercies of the elements. She was moved into an emergency housing bed and breakfast pronto and then to a long-term housing complex. She waits while her house is brought back to the wonderful home she remembers.
On the chance that anyone reading this article is in need of help or is available to be a helper, it would be useful to know specifically about what Habitat for Humanity Lapeer- Tuscola does.
Availability. If you are someone who is operating from a position of strength in life, there are a lot of ways that you can be part of the blessing. Habitat is primarily concerned with housing, but not exclusively. Anything that you can think of relative to home construction and property concerns is in the mix. Think about whether you are someone who can make a donation or volunteer.
Money. Too obvious? Money is what greases all the other gears to keep the process moving smoothly. Grants, donations, fundraisers…in keeping with their belief that God will provide what they need, money comes in and pretty much goes back out every day. Every penny becomes part of a story, a blessing. Ask Carolyn and her crew.
Subcontractors, volunteers. Since the money has to be doled out so judiciously… emergencies, capital expenditures, supplies, etc…cash flow is always an issue. Amazingly, it works because, partly, much of the labor and expertise is donated. It is the wellspring that never runs dry. Carolyn reflects on a period of time around 2007-2008 when they experienced a dearth of qualified subcontractors (e.g., electricians, heating/cooling, plumbers) because the construction industry was suffering a meltdown. Subcontractors left to find work wherever they could. In lieu of ready help, a substantial percentage of H4H's total operating budget had to go to other, more expensive solutions. Gladly, she can report that the pool of subs has sprung back and is hard at work.
Restore. What a good idea, the "Re-Store." A big retail shop at H4H headquarters, open to the public, for reselling donated materials… windows, doors, hardware, appliances, furniture… anything that moves healthy housing situations along. Carolyn estimates that 40 percent of the operating budget is funded by Restore. The proceeds are a way to support the construction side of Habitat, and the practical availability of what would otherwise be priced at retail can be life-changing to those who have nothing.
Critical Home Repair Program. Carolyn and her crew respond to 80-100 critical home repair requests each year. She is heartbroken when she assesses a site and comes face-to-face with such disrepair and desperation. Habitat is often the link between collapse and renewal.
Partnerships, Relationships. Home Depot, banks (low cost mortgages), builders (surplus materials).…What would Habitat for Humanity Lapeer- Tuscola be without their partners? Their relationships are invaluable to the momentum and support of the work Habitat is able to accomplish.
Carolyn Nestor celebrates Southeast Michigan. She has lived and worked in a lot of places. "I think Lapeer-Tuscola counties are the nicest communities in the U.S," she said. We think she's pretty great too.
This is how Marjorie was subsisting when Habitat Lapeer-Tuscola first met her. The family home was in ruins, she was shivering in the old, uninstalled travel trailer without running water. Her only source of heat and light were an extension cord from the old abandoned remains of the house.
"She is healthy and optimistic but that's not the currency you need to help this house come back to life"
For more information, to donate or to volunteer, call Carolyn Nestor at (810) 664-7111.
Habitat for Humanity Lapeer-Tuscola
1633 N. Lapeer Rd.
Lapeer, MI 48446
810.664.7111
www.lapeerhabitat.org
hfhlapeertuscola@gmail.com