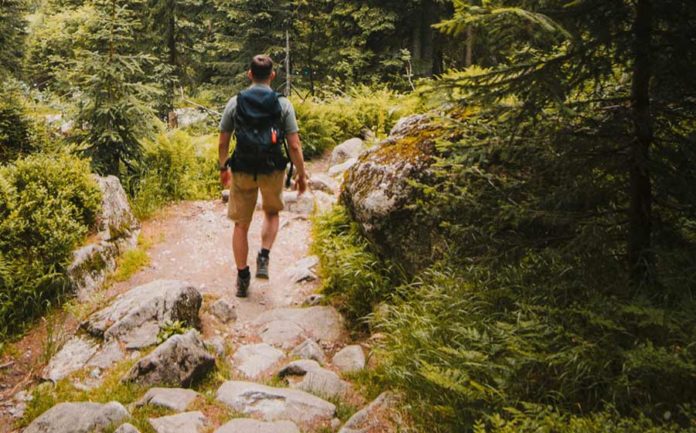 Reading Time:
3
minutes
Posted October 18, 2019
By Sally Rummel
Whether you're traveling for business or for pleasure, keep up with your healthy habits and don't let your next trip weigh you down. Sure, you can lose those few extra pounds you gained when you get home, but it's far wiser to stay as close as you can to your regular routines and habits—and enjoy the company, entertainment and scenery even more than the food. Put your health first with these travel tips:
Before You Go
1. Be up to date on your immunizations.
If you're traveling in the fall or winter, get your flu shot, pneumonia shot and perhaps the new shingles vaccine, if you're age 50 or older, well in advance of your travel dates.
2. Consider travel insurance.
Traveling internationally? You might want to buy comprehensive coverage to cover a wide range of situations, according to CNBC.com. Medical insurance, with the exception of Medicare, will pay "customary and reasonable" hospital costs abroad, especially in major cities. But medical expenses add up quickly. A medical evacuation could cost more than $50,000, according to the U.S. State Department.
Cruise Critic, an online cruise forum, suggests comprehensive travel insurance for cruises, because most involve international travel. In case of a hurricane, you'll be glad you bought it ahead of time. Once the storm is spotted and named, it's too late to get insurance.
3. Plan ahead for food allergies or special dietary restrictions.
Find out from a travel agent or hotel concierge which restaurants at your destination might have options. Pack snacks to tide you over. Consider carrying a food allergy ID card, with photo templates, available at Foodallergy.org.
4. Pack a first aid kit.
Include bandages, antibiotic ointment, fever and pain reducer, motion sickness remedy, thermometer, anti-itch cream, medicine for allergic reactions, medicine for stomach aches and cold and flu relief and re-hydration tablets in case of diarrhea, according to the Centers for Disease Control.
5. Pack sunscreen.
A painful sunburn can ruin a vacation. Lather sunscreen liberally, wear protective clothing and if possible, avoid peak daytime exposure. If you get burnt, the Travel Channel recommends taking ibuprofen as soon as you notice "the pink." Hydrate and use aloe gel to soothe the burn.
The Day of Your Trip
1. Eat smart before you leave.
Eat a healthy meal before you leave, to keep you satisfied until your next meal. Eggs, plain yogurt, oatmeal, toast with peanut butter and banana are all smart choices, according to Health.com.
2. Pack food.
Whether you're flying or driving, be pro-active by packing smart food choices. Consider airport security-friendly items like a whole-wheat peanut butter sandwich, hard-boiled eggs, seeds/nuts, turkey jerky, fruit, individual portions of peanut butter, hummus, etc. Leave strong flavored foods, greasy fast foods and hard-to-digest foods at home. Choose protein varieties of energy bars and read labels.
3. Eat healthy at airport food vendors.
Surprise! You'll find many healthy choices at the airport. Many airport restaurants offer oatmeal, grilled chicken salads or sandwiches. You'll also find fresh fruit, hard-boiled eggs, nuts, turkey and cheese cubes in ready-to-eat packages at many shops. Avoid salt-laden snacks and crackers, which might cause dehydration. 
4. Drink plenty of water.
Fill an empty water bottle from home once you're through airport security. Staying hydrated will fight jet lag, boost energy and battle fatigue. However, once you arrive, be wary of water in any country except the U.S., Canada, Europe or Australia, according to Everydayhealth.com. Use bottled water to brush teeth, make ice cubes, wash fruits and vegetables, etc. Only drink coffee or tea made with boiled, purified or bottled water. Keep water out of your mouth when showering.
Stay Active at Your Destination
1. Enjoy active sightseeing.
Rent bikes to explore a city or enjoy a walking tour. Walk, walk, walk, everywhere you go.
2. Exercise in your hotel room or gym.
Most hotels offer a fitness room of some kind, or a pool. You can also pack resistance bands or use an exercise app like Nike Training Club or a 20-minute hotel room workout from Nerdfitness.com.
3. Resist the urge to splurge.
Yes, you're on vacation, but get off the 'I'm on vacation' mindset when dining out. Order appetizer-size entrees, share meals, eat a half portion, and tell your server your dietary preferences. Sample, rather than feast. Allow yourself a daily small treat, especially if your destination's culinary culture is part of the experience—i.e. pastries in Paris.